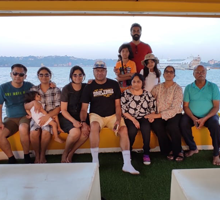 Seema
"We used the Goa Champions Yacht Club Catamaran Sunset cruise service on 13th Jan 2021, Wednesday for 2 hours in the evening. I was not sure if I was making a right decision but after the cruise I was convinced and happy that I had taken the right decision.
Couple of reasons why I say so - We were a family of 11 with senior citizens, my sister who is physically challenged, 3 kids on the cruise. At the jetty point where we had to board it wasn't easy for my sis to get it. The captain and the team somehow got the catamaran as close as possible so that it would be convenient for all of us to board. They were kind, patient and helpful. And that's exactly was the need of the hour. We also spotted dolphins, Kids enjoyed to their heart's content. My sis had a great experience which was my priority since I would not be able to take her in a smaller boat. Overall this decision ended up in a great joyful experience! Thank You CYC Team."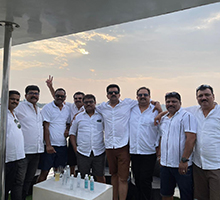 Girish
"A memorable visit - It was a pleasurable experience to have been at Champions Yacht Club. This was our first yacht trip with CYC, it was perfect because of the hospitality and impeccable service we received at yacht. They follows all the safety guidelines for COVID 19.
Overall we had an excellent impression of the yacht from the moment we boarded until we left. I will for sure choose yacht trip on our next visit to Goa."